FlipBuilder helps design digital magazine with video illustration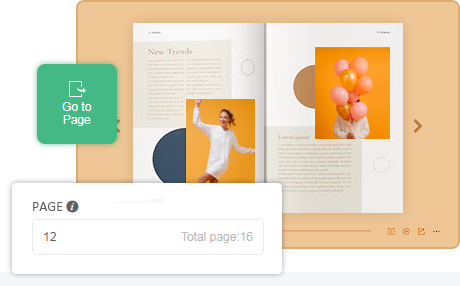 "Digital magazine with video"
With Flip PDF Plus Pro, digital magazines become more and more outstanding, full of videos and interactive effects that captivate readers.
In this fast-paced world where attention span is shrinking, digital magazines are a better alternative to print publications which suffer from low readership problem. The growing importance of a digital magazine with video has led to more and more publications using this medium. But creating a finely crafted magazine that grabs and holds the reader's attention is a daunting task. Here, Flip PDF Plus Pro, a powerful and feature-rich software, comes into action.
Flip PDF Plus Pro is a state-of-the-art magazine maker that allows users to create a professional-looking digital magazine with video without being limited to a specific design. Building a custom digital magazine with video is easier than one might think and requires no coding or programming expertise.
The software comes with a range of well-designed templates that are fully customizable, making it the ideal tool for designing a digital magazine that caters to a specific audience. Creators can modify the pre-designed templates and add their own branding elements to the magazine, modify them for their audience, and end up with a polished magazine that resonates with their readers.
"We know that innovation and performance are the keys to creating a great digital magazine with video. Flip PDF Plus Pro, a digital magazine maker, helps you create engaging editorial pages with high-quality content. It lets you include links, images, YouTube videos, Vimeo videos, and more to bring articles to life. It also provides a variety of layout templates and allows you to insert animations, music and other multimedia for added vibrancy," says Winston Zhang, CEO of FlipBuilder.
A digital magazine with videos made with Flip PDF Plus Pro allows readers to explore and scroll through the entire magazine with a single tap for smooth navigation. Moreover, it has a full-featured page editor that can effectively create multimedia-rich and interactive digital magazines. Its powerful editing tools allow users to incorporate all their creative ideas into the publication.
Moreover, the software facilitates the publication of interactive magazines on the cloud, and these magazines are compatible on all devices and platforms. Moreover, with the inclusion of Google Analytics, publishers can measure the performance of their magazines with videos and have in-depth insights into user behavior to improve their magazines.
To discover more information, stay tuned to FlipBuilder.
About FlipBuilder
FlipBuilder is a digital publishing company that offers the best option to convert and design fantastic flipbooks online.
Video link: https://www.youtube.com/embed/sFxLq23m0RA
Media Contact
Company Name: FlipBuilder.com
Contact person: Customer service
E-mail: Send an email
Call: +86 020-61972665
Country: China
Website: https://www.flipbuilder.com/