The DFNI digital magazine for March / April 2021 is now online
[ad_1]
Rebuilding better is the priority for travel retail in the Americas right now; rather than looking back on the hardships of the past year, this edition looks back on the refocusing and reaction of the region's travel retail players during the crisis and on how they intend to build the future.
In the foreground is the announcement of our finalists for the DFNI Americas Award 2021 to p10. This year's virtual event will celebrate how stakeholders have transformed over the past year and reward the best of innovation, teamwork and dedication at a time when positivity has failed. never been so vital.
We also take an in-depth look at the state of affairs in the Americas in our dedicated regional report. Major issues and talking points are highlighted in conversations with key players, including Dufry Director of Operations South America Gustavo Fagundes to p41 and Hudson CEO Roger Fordyce to p44.
Starboard Cruise Services President and CEO Lisa Bauer (p46) and Nadine Heubel, CEO of Heinemann Americas (p49) discuss the cruise industry, as we take a look north of the border with Greater Toronto Airports Authority Director of Business Development Giovanna Verrilli to p60; Peace Bridge Duty Free Managing Director Jim Pearce to p54 and Vice President IGL Justin Guay to p52.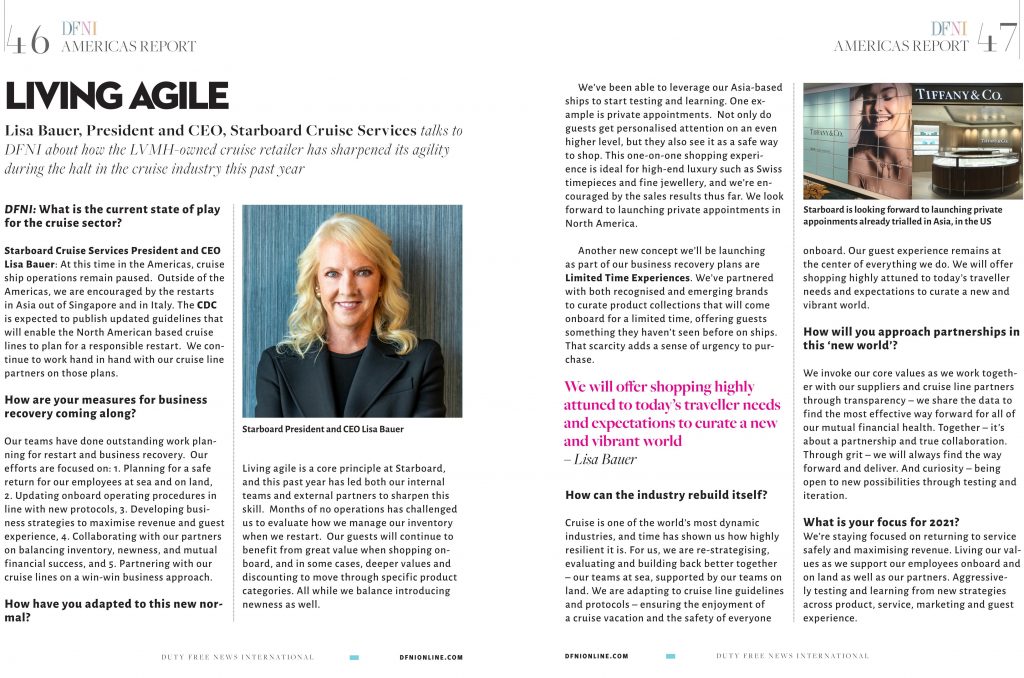 To complement the regional report, we discuss changes and challenges with Grupo Aeroportuario del Sureste CCO Manuel Gutierrez Sola to p58; Neutral by Luryx CEO Marcelo Montico to p56 and 3Sixty Duty Free & More COO Alexander Anson-Esparza to p50.
During this time, IAADFS President and CEO Michael Payne written for us on p22 before this year's one Summit of the Americas event, explaining why visibility has never been as important as it is now.
The sentiment is reflected by General Manager of ARI North America Jackie McDonagh in our interview on p36, as she shares how the retailer grew its online business and evolved amid the pandemic.
Good news arrives in the last Data area in p30, like Olivier Ponti from ForwardKeys shows why travel to the Americas shows a gradual change in the right direction.
In this month DFX, we turn our eyes to Hamad International Airport and the new activation of Chanel celebrating the zodiac sign of Gabrielle "Coco" Chanel to p32.
For the category report, Joe bates talk about why Spirits are "low but not out" on p62, and Elena Dimama examines why digital development and new products are revitalizing the Travel accessories and gifts category on p71.
Finally, do not miss our regular sections, including category news, Meet the buyer and Just landed.
[ad_2]