The latest magazine "More or less" presents a masked Chloë Sevigny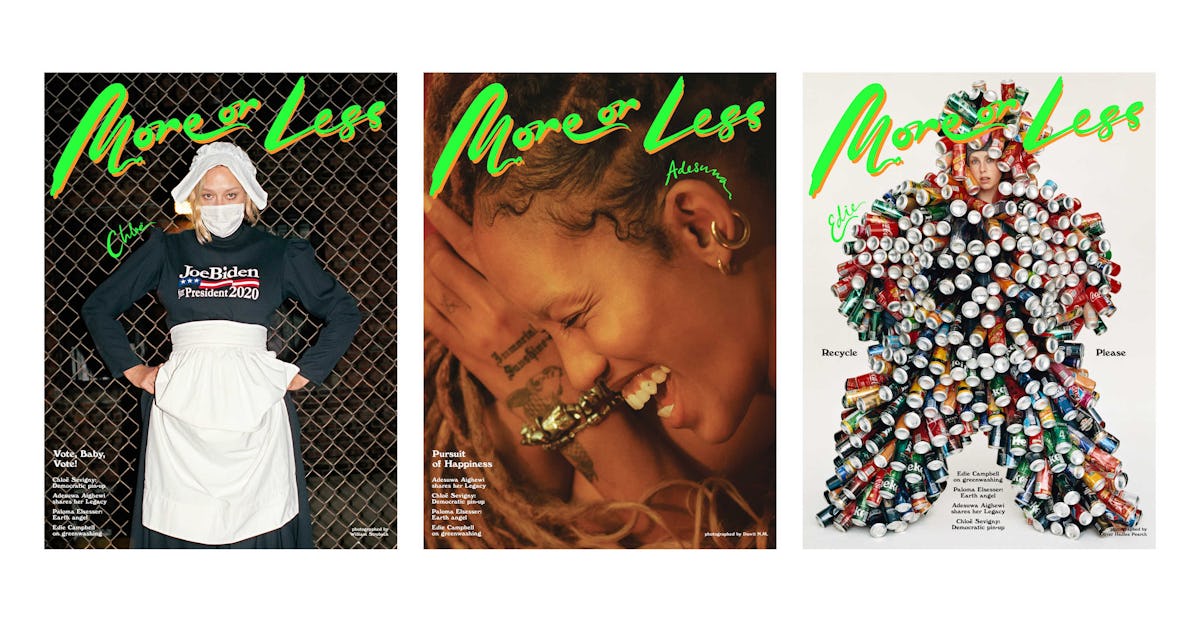 [ad_1]
When art director Jaime Perlman started his first job at a magazine in New York City in early August, sustainability was barely a concept on the fashion industry's radar.
But while Perlman was working on Harper's Bazaar and both American and British Vogue, the business landscape has changed. People have started to take note of the depth of fashion's carbon footprint on the earth. And Perlman, in turn, began to have conversations with notable people who were interested in the environment; they made him understand the urgent need for conservation, reuse and circularity within the industry. These concepts led Perlman, who left the UK Vogue as Creative Director at the end of 2017, to launch her own business and a sustainability-focused magazine in London the following year.
The result was More or less, a magazine focusing on the impact of consumption, which places vintage clothing, army surpluses, artisan clothing and thrift stores alongside items from top designers. The fourth issue, released Monday, features four different covers. Below, Perlman is chatting with W the process behind the remote shooting of Chloë Sevigny and Paloma Elsesser, and how she ensures that creating a print magazine will not be detrimental to the environment.
I'm curious about the bobbin jumpsuit Edie Campbell was wearing. How was it done?
It was produced by Charlotte Collet, stylist based in Paris. She actually did a shoot for me in our last issue, which was all about underwater pollution. She created this dress, which was made from scraps found in the ocean, and she continued to custom-make these weird and weird pieces for different shoots. So she invented this fake fashion brand called Kezako – everything is made from recycled materials, old sweaters and vintage fabrics and scraps. For Edie's look, she found all those Flickr photos from an Earth Day festival in the early 2000s; during Earth Day there are these big festivals and parades with tons of people wearing these big crazy box costumes. It's a thing. So that's where the inspiration came from. To put the suit together, Charlotte went to rummage and actually took some cans out of the trash; these are all cans that have already been used and put in recycling bins.
What was Edie's reaction when he saw the play on set?
We were all so happy that she was the model who did the shoot at the end. She's the only one who I think has a good enough sense of humor not to cry when she saw what we dressed her in. In fact, she found it hilarious. So she was laughing the whole shoot. She's so thin and wispy and she was in that big, heavy stuff, but she had a funky, vibrant demeanor.
Tell me about the shooting of the other three covers. Did you shoot on Zoom, were you working remotely?
We shot Edie in March before lockdown. After that I worked remotely. The other three covers were all shot in New York and I couldn't get there. With Paloma Elsesser, I had told her about how I really wanted her to be on one of the covers. We were talking about ideas and she told me that she was obsessed with the story of the Venus of Willendorf. She had this idea of ​​being photographed naked, with an emphasis on appreciating a really raw and curvy body, appreciating beautiful shapes and brown skin. She wanted to be photographed by a female photographer, and we figured Zoe [Ghertner] would be the perfect choice; they ended up shooting it in New York for two days. I kind of discussed the concept with them and saw the location and did my art direction level from afar. But I implicitly trust Zoe. I have worked with her a million times and she has a great point of view. And also I wanted Paloma to feel comfortable with a shoot that was so personal and revealing to her, literally. I wanted her to feel like she had control over the way she was shown. We were all three very involved in the editing, the layout. It was very collaborative.
Adesuwa Aighewi was shot dead in New York. I wanted to go to the shoot, but it was too difficult for me to travel. I worked with this new photographer, Dawit NM, who is really a filmmaker. I thought it would be an interesting choice because I wanted to work with someone new. Alex Harrington styled it with all these pieces that Adesuwa uses for his platform, Legacy. The items are made by African artisans and artists. I like what she does because everyone is talking about sustainability, climate change and the environment, which of course are all important. But it is also vital to help local communities and support people within businesses.
Then I had this last minute idea that we should do a "Vote Biden" cover because of the proximity of the election outcome. I was like, who would be crazy enough to do this and get enough traction? So I texted Chloë Sevigny, and she said, "Yeah, I'll totally do it. Then she sent me this strange reference when she was in Provincetown, Massachusetts. She walked past a booth in a store and there were these models in costumes and then they were wearing shirts that said "Gay for Joe". So we asked Marc Hundley to make him a t-shirt that said "Gay for Joe". This one isn't on the cover, but there is a foldout poster inside where she wears this t-shirt. And on the cover, she's dressed in a weirder way. We are not trying to make a specific statement. It's more of a sort of avant-garde.
His blanket gaze gave me Handmaid's Tale.
A little. I think that's kind of what we all initially thought — a little Handmaid's Tale, a bit of Richard Prince with the mask.
How did you decide to launch a magazine focused on sustainable development?
I created More or Less magazine as a reaction to everything that is getting so excessive in fashion. Having worked in a magazine like Vogue for so many years and seeing catwalk fashion very well represented in the media, I felt like there was a hole in vintage dressing. Brands that were more focused on sustainability were looked at from a different perspective. Durability is important, but I also think a lot of people love to buy vintage and dress that way. So I kind of wanted to present a different style that wasn't so catwalk oriented.
When I started the magazine, the emphasis was on durability, craftsmanship, DIY, and vintage dressing. While preparing the magazine, I continued to meet more and more people who suggested other people I should talk to about sustainability. I met Livia Firth and Amber Valletta and all these interesting people; the more I talked to people, the more I realized how vital the conversation about sustainability is. When I was at Vogue, I really didn't think much about it. It was not something that was a high priority for me. But at the same time, I was very aware of the waste and how quickly the fashion industry had grown. But I didn't necessarily know how to articulate that. I did not have the information to communicate about it in a factual manner. But it really is the most important conversation. And in fact, it just got so much stronger.
Creating the magazine was also a learning moment for me, that's for sure. I've learned a lot about what went wrong – the more you open it, the more you find out and the bigger the issues get. It can be really intimidating because there is so much that needs to change.
How was your conversation with Livia Firth?
Initially, I wanted to make the magazine at a very low price. I thought watching people buying from thrift stores would be interesting, and I just felt like there was something wrong with going into a store and spending 4000 pounds on a brand new coat as you go. wear twice. It doesn't seem very modern to me. Livia told me: "In fact, you have to be careful about that because it's nice to have affordable fashion, but you have to pay for the buttons, the seams, the zips, the postage, the material. , the packaging, the people who sew these clothes together, it all adds up. All of this should be included in the cost of what you pay for with the fashion. So if you go too low, something is wrong. Someone is being deceived and something is not done right. Since then, I've really opened up the price because I've learned that a sustainable way to dress is to invest in something that you'll hold onto for many years to come just to consume less fashion. And the notion of buying things – buying something new every season, every month – has to change. We have to rewire our brain because it won't work in the long run.
Some people might say that starting a print magazine could arguably be as pointless as a fashion brand. What would be your response to that?
We are certainly very attentive to this. The magazine is printed on Forest Stewardship Council certified paper. All the paper we use comes from a totally circular forest. Thus, for each tree that is pulped there, a new tree is planted. The forest is fully managed. We don't want to cut down forests to create the magazine.
Have you started working on number five?
We know we'll do another one next year. I have no idea who or what will be in it, but the essence of the magazine and our philosophy is that we prioritize sustainability, circularity, vintage and inclusivity in fashion. . We love to champion new photographers and talent, and we donate all profits from our sales to charity; we change it around every problem. This time we donated to the NAACP, the Lebanese Red Cross and the World Land Trust. Our next issue will focus more on these same themes.
It is a very difficult time to plan anything well in advance. We were originally due out in June with Edie's issue. And every shoot, other than Edie, had either collapsed or changed. But I'm really glad, in a way, that we pushed that forward and had more time to shoot more stuff. But the world has changed completely during this time and our shoots have turned out to be very timely. Who knows where we will be in a month, two months, six months. Whatever the world may look like next year, that's what the problem will reflect.
Related: Chloë Sevigny on maternity, hiding her pregnancy on the set and this nostalgic target photo
[ad_2]