'TIME' magazine features parents who lost children to school shootings for its new cover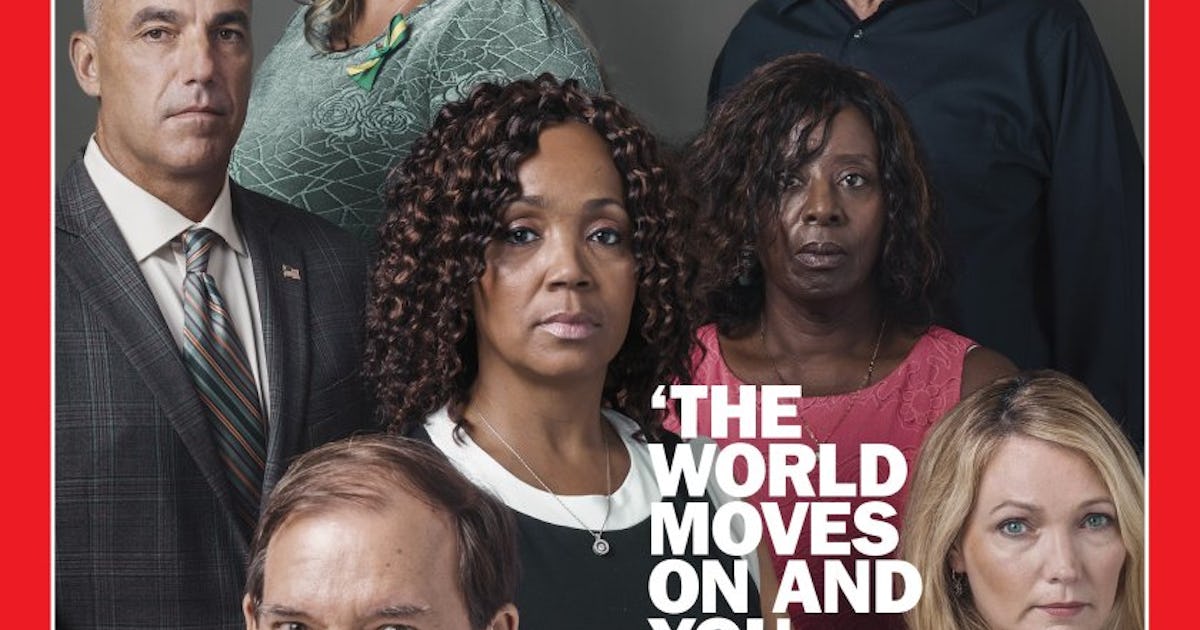 TIME magazine is often recognized for its compelling and powerful covers. And on Thursday, Time cover featured the parents of the school shooting victims. The moving portrait is a reminder of the ongoing gun violence in America and gives voice to the "invisible network" of parents who have lost their children to this horrific epidemic.
The news cycle in the United States can change quickly, especially when it comes to mass shootings. This phenomenon can probably be explained by the frequency of these tragedies – ABC News reported on Thursday that the United States averaged at least one mass shooting per month in 2018. And in 2017, there were 346 mass shootings. mass, according to Gun Violence Archive.
When the public refocuses its attention and efforts on the next mass shooting, the family members of the victims tend to be left behind. This is why it is important for parents who have been affected to create a network of defense and support between them, something that TIME highlighted with its heartbreaking cover featuring seven parents who have lost children to gun violence.
"Parents who have lost children in school shootings find solace in a group no one wants to join," TIMEThe Twitter account of wrote on its new cover.
Additionally, the cover reads, "The world moves on and you don't."
Coverage includes Pamela Wright-Young, Melissa Willey, Andrew Pollack, Darshell Scott, Tom Mauser, Nicole Hockley and Darrell Scott.
Wright-Young's son, Tyrone Lawson, "was shot outside of a high school basketball game in Chicago in 2013," as TIME reported.
Willey lost her 16-year-old daughter, Jaelynn, who was killed by a classmate at Maryland's Great Mills High School in March, according to Newsweek.
Pollack's 18-year-old daughter Meadow was killed in the Stoneman Douglas High School shooting in February, according to The Miami Herald.
Darshell's 17-year-old son, Bernard Scott, was shot dead in April 2013 while hanging out at a local playground in Philadelphia, according to NBC Philadelphia.
Mauser lost his 15-year-old son, Daniel, in the Columbine High School mass shooting in April 1999, according to The Guardian.
Hockley's 6-year-old son, Dylan, was killed in the December 2012 shooting at Sandy Hook Elementary School, according to NPR.
Darrell lost his 17-year-old daughter, Rachel Scott, in a mass shooting at Columbine High School, according to TODAY.
The cover's accompanying story also included other parents who have lost their children to gun violence, while examining the aftermath of their personal tragedies.
Although every grief journey is different, parents interviewed agreed that the support network they have created is important. "We understand the pain, the trauma and the long-term consequences. It's brother and sister," Joe Samaha, whose 18-year-old daughter Reema was killed in the Virginia Tech shootings in 2007, while TIME reported.
As for the public reaction to TIMEthe cover story? Many people have cited the cover as proof that gun reform in America needs to happen. now.
"It breaks my heart every time i see it," one person wrote on Twitter. "Parents should be worrying about what their high school kids are wearing to prom or what their little ones are wearing for picture day… not caring whether their children will return home safe and sound. We need gun reform now!"
"There's no blanket big enough to capture devastation and grief," someone else said. "Nothing can be said to comfort these families. Create STRONG gun laws would be a start. It took a lot of courage for these parents to have their picture taken. #Never forget."
Although it is comforting to know that these parents were in TIMEfound a support network between them, they shouldn't be in this position of this "invisible network" in the first place.