TIME magazine features PM Narendra Modi on cover and calls him "India's chief divider"
[ad_1]
Time Magazine featured Prime Minister Narendra Modi on the cover of the May 20 issue and called him "the chief divider" of India. The title is accompanied by a cartoon by Modi and talks about the rise of populism in democracies like India, Turkey, Brazil, Britain and the United States.
The magazine's article, written by Aatish Taseer, is titled "Can the World's Greatest Democracy Endure Another Five Years of a Modi Government?"
The article opens with the sentence: "Of the great democracies to fall into populism, India was the first. Under Prime Minister Modi, "the most basic standards of the nation, such as the character of the Indian state, its founding fathers, the place of minorities and its institutions, from universities to businesses to the media, have come together. proved to be severely suspicious ".
The article also recalled the riots in Gujarat which claimed the lives of hundreds of people while Narendra Modi was the chief minister of the state.
He also compares former Prime Minister Jawarharlal Nehru, who was openly criticized by Modi in his speeches, for ideas of secularism with the prevailing social "stress" under Modi who "showed no desire to foster feelings of brotherhood between Hindus and Muslims ".
The article is based on Hindu-Muslim relations and accuses Modi of being pro-Hindu and not working in the interests of the country's Muslims.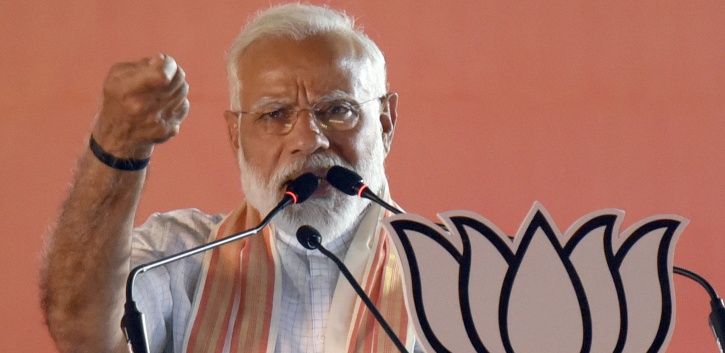 BCCL
The cover story says that "the world's largest democracy is more divided than ever" – covering extensively the mob lynchings, the appointment of Yogi Adityanath as chief minister of Uttar Pradesh and the recent decision of the BJP to send Sadhvi Pragya, accused in the Malegaon explosion case, to Bhopal.
The Time story comes at a time when Lok Sabha's elections are entering their home stretch with only two stages left for the ballot. Votes will be counted on May 23.
This is not the first time Narendra Modi has been criticized in Time. In a 2012 article, the magazine described him as an ambitious, controversial and astute politician.
Many on Twitter called Modi "a real boss of tukde tuke gang."
Looks like even Time Magazine has the same views. Now the whole world knows we have a PM that divides @Narendra Modihttps://t.co/qTxSmu6PfD

– RAKESH CHAVAN (@raakeshchavan) May 10, 2019
Who is the leader of the real "Tukde Tukde gang"? I think the world knows better. https://t.co/AJZPy2w88M

– Swati Singh (@itssinghswati) May 10, 2019
Very true, PM Modi was only "the chief divider of India". Its policy of division has seriously damaged the social fabric of the country. #JitegaModiJitegaBharathttps://t.co/KY5V7kQgrf

– Afzal (@IndiaAfzal) May 10, 2019
Who is the most dangerous for the country?
The chief divider of India @Mrs Gandhi pic.twitter.com/2XpTOJz37r

– Sweet Abyss (@TrueAthiest) May 10, 2019
While Indian chief divider Modi and the BJP are busy hiding behind Rajiv Gandhi and INS Viraat, Gujarat faces a massive water shortage. Elections are over in Gujarat. Who will listen to their pleas ??
Lesson – never vote for the BJP.# Vote4Governancehttps://t.co/0gfVfQRbRK

– Sanghamitra (@AudaciousQuest) May 10, 2019
Now he will cry and demand the vote saying that the world's most important magazine deceived me by saying – "the chief divider of India"! https://t.co/VO4T85PciM

– Anil Karnwal (@KarnwalAnil) May 10, 2019
#Time magazine calls Modi the "chief divider of India" in his recent issue, while #IndiaToday in its year-end 2002 issue, after the anti-Muslim pogrom in Gujarat called it a "master divider". Man and his politics thrive on blood, communitarianism and division based on religion. pic.twitter.com/EVKyH1iao8

– Syed Hassan Kazim حسن کاظم (@kazimtweets) May 10, 2019
Time Magazine calls Modi "the chief divider of India".
His opponents call him an authoritarian ruler.
His supporters see him as their compass and hope he has a prolonged reign.
Frankly, Modi is sounding more and more like a Geometry Box.

– Ramesh Srivats (@rameshsrivats) May 10, 2019
You see the difference, the chief divider of India @Narendra Modi?
Some #FridayFeeling and #FridayMotivation for BHAKTS. pic.twitter.com/ot8YBMCgZ9

– BhaktTroller (@BhaktAssassin) May 10, 2019

[ad_2]