Time Magazine Presents 'Scary' Photo of Jeff Sessions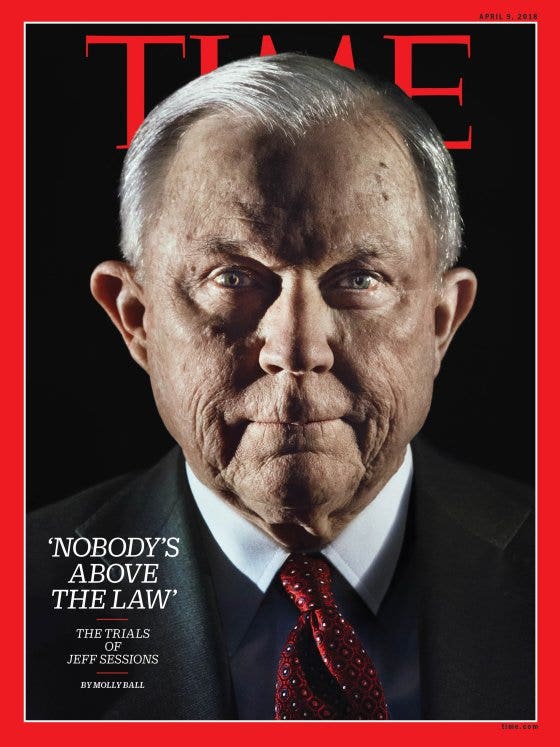 [ad_1]
The latest edition of Time magazine may have focused on changes to the Justice Department under Attorney General Jeff Sessions, but it's the coverage that's causing a stir.
On the cover of the magazine's new edition this week is a photograph of Philip Montgomery of Sessions looking directly at the camera.
The photograph shares similarities with Ivan Albright's painting "A Face from Georgia" and has sparked a strong reaction on social media.
"The photo of Jeff Sessions on the cover of TIME is scary as hell," Sarah Lerner said on Twitter.
"A terrible cover photo. Is this really the best you can find? Be better," wrote another user.
But the photographer behind the photo didn't seem to have a problem with that, posting: "Delighted to have photographed the cover of @TIME which features US Attorney General Jeff Sessions. Please check out the story with excellent reporting from @mollyesque. "
THE TIME MAGAZINE LEAVES A SECOND AMENDMENT TO THE COVER OF PARKLAND
Time Magazine recently featured five anti-gun survivors of the Parkland, Florida high school massacre, but the magazine has been criticized for ostentatiously omitting their pro-Second Amendment classmates.
When a Twitter user asked why Time did not include students who supported gun rights, Kyle Kashuv, who has become a prominent advocate for preventing violence while upholding gun rights at fire in the weeks following the shooting, wrote "Because that would make TIME impartial." "
Fox News Gregg Re contributed to this report.
[ad_2]